Digital nomadism is trendy. So many influencers and vloggers make a business from it. They create a dream which is far from reality.
I get mad when someone comes to me to ask a question like:
Hi, is it true you can live for 5€ a day?

Hi, is it true you can earn 1000€ a day as a nomad?

If it was true, I would earn 30 000€ net and spend 150€ per month. This ratio corresponds more to my reality: 1 400€ net for 800€ per month. Others might earn and spend more. The costs will differ in the way you live and manage your business. For some people, a 3 000 € Airbnb is cheap…
So no, sorry, but you won't become rich while travelling the world…
All serious nomads, so the people you really travel regularly and earn a sustainable income, will tell you that there are a lot of hidden costs in our lifestyle.
You'll be surprised to discover that working remote around the world isn't that cheap. A full-time job in the same location might be more financially interesting … I'll compare both aspect.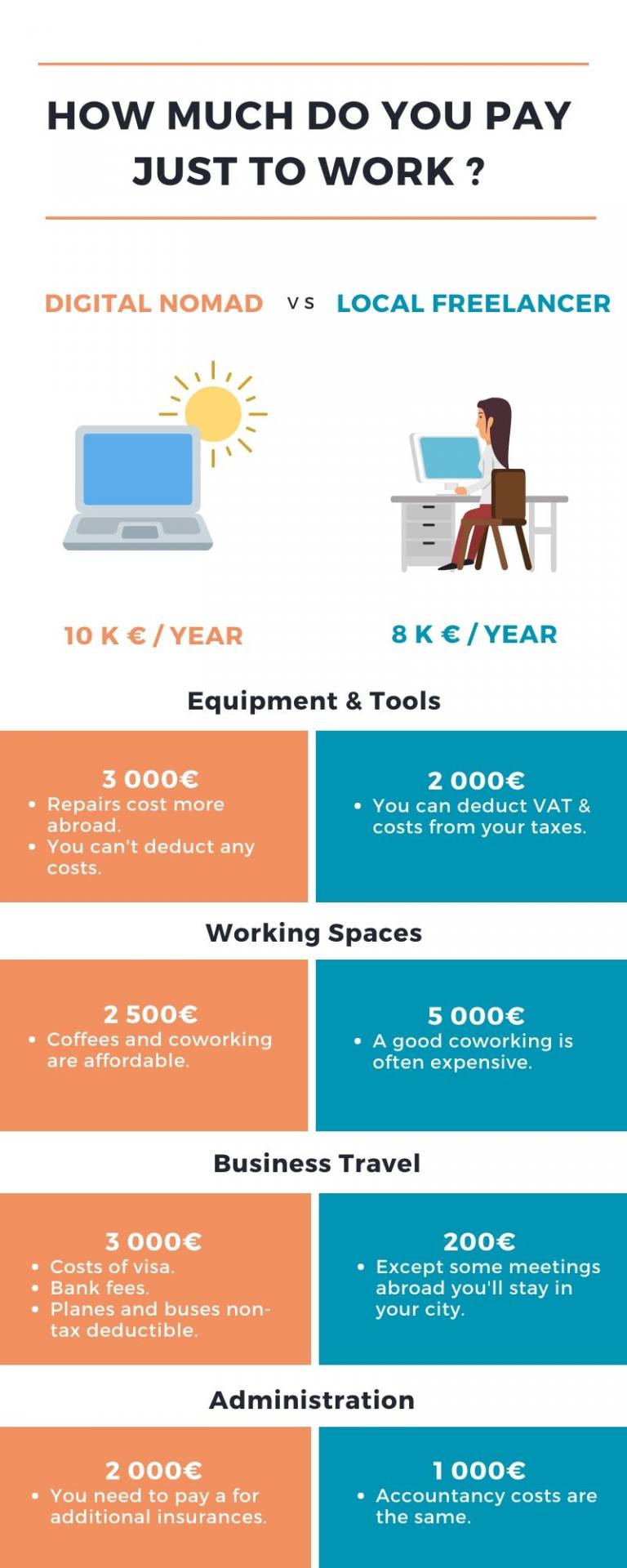 Equipment costs: 1000
€

/ year more

In general, we buy the same tools than you do (MacBook Pro, Windows Surface, iPad, smartphone etc.) Some content creators buy drones and high-end cameras but it's a minority.

The problem comes when our equipment is broken…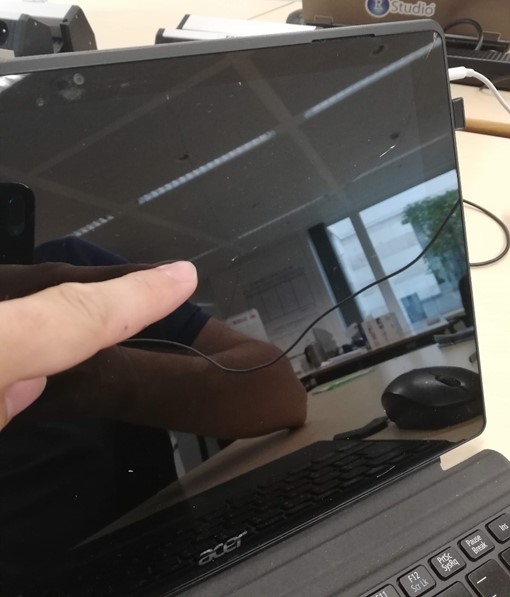 Do you know how hard is it to replace a screen in Cambodia?

If you think that high tech products are cheaper in exotic countries, you are wrong. The cheapest places to buy electronics are USA, Japan, Singapore… If I need to buy a computer in Thailand, I might pay 150€ more than in Belgium.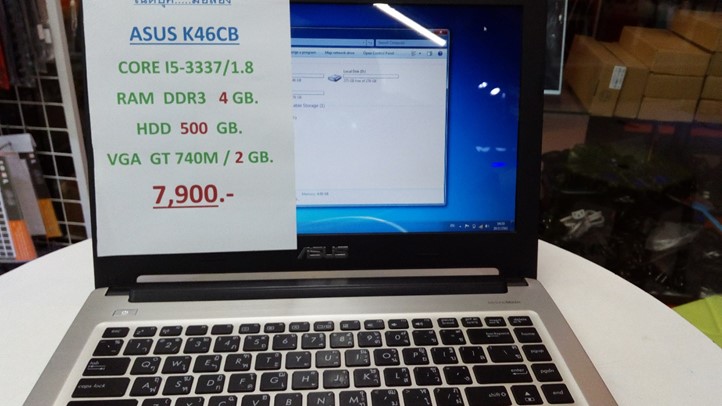 Additionally, the keyboard will be Thai…

In many countries, governments charge higher taxes on imported products. Electronics is considered as luxury so it's more taxed.
The last thing, you won't be able to reduce VAT and accountancy cost from your purchase. Indeed, many invoices from abroad are not valid…
Working Spaces: 3 000
€

/ year more

Digital nomads are not welcomed anywhere when it comes to camp with their laptop. Coworking spaces are a luxury. Coworking prices around the world are basically the same around 10 to 25€ a day. With a monthly pass, you can end up with 250€ per person.


 

Some freelancers who can't afford coworking end up in coffee shop or restaurants. There you can't just sit and work. You need to pay frequently drinks. Otherwise, the waitress will ask you to leave…


 
Let's say 2€ for a coffee for 2 hours work (yes, even if cheap countries, good coffee places cost a lot). For a normal working day, you've spent 6€. After one month, you've spent 150€ for the privilege to work in a place where we can be productive…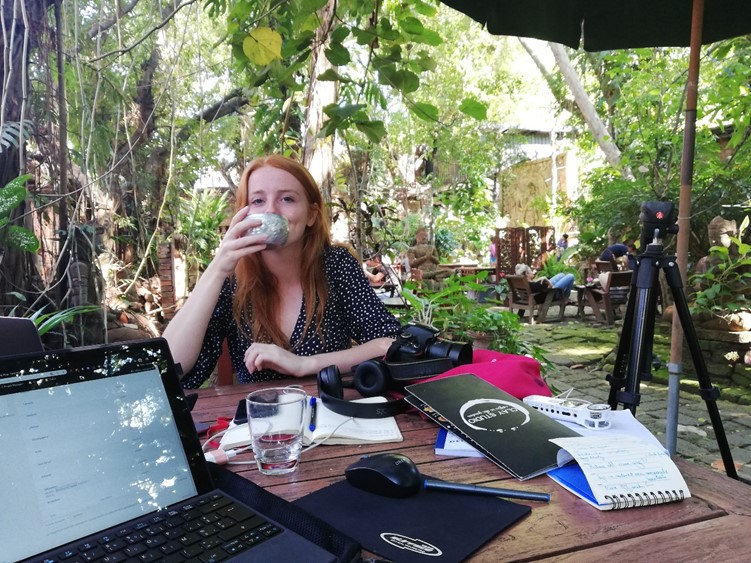 Working Coffee à Chiang Mai (Thailand)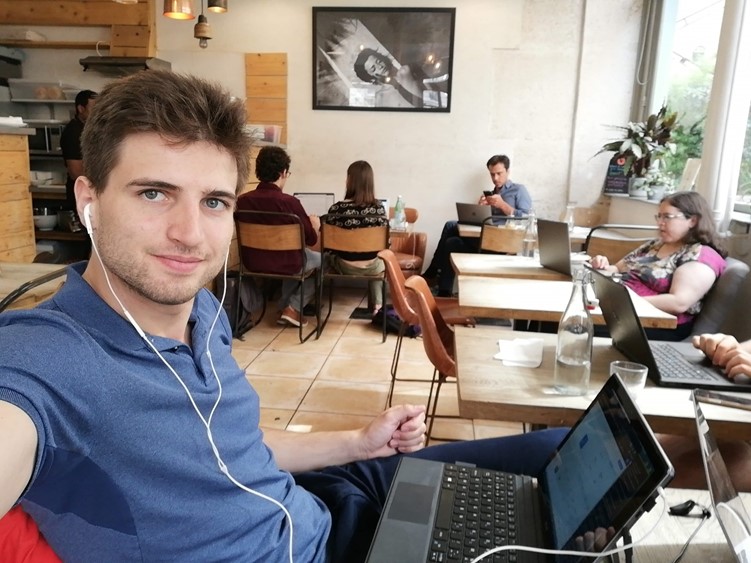 It's even more expensive when in Paris, it's 5€ the coffee!
Accommodation: 6 000
€

/ year


We need to sleep somewhere. Accommodation prices depend on personal references. When I was alone, I didn't mind staying in a hostel. Dorms in eastern countries cost around 5€ per night. In western countries, it's around 25€.


 

Now that I travel with my partner, we use Airbnb. For a one-room apartment, it costs around 500€ per month. A lot more in Europe and US…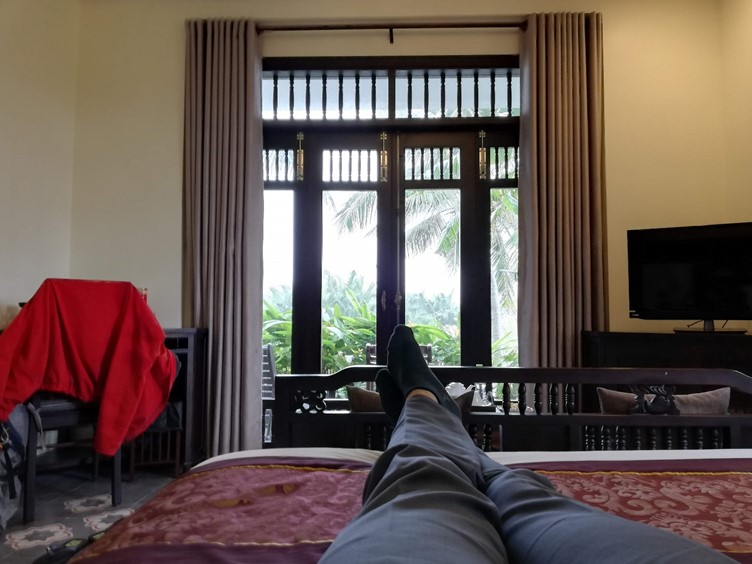 Airbnb in Vietnam

Non-avoidable bank costs: 600
€

/ year

Abroad, get money costs money!
Banks are sharks. You'll pay all the time you withdraw cash from an ATM or use your credit cards in local currency.
I remember that I was shocked when my old bank ING charged me 12€ to withdraw cash… Most places don't accept credit cards, so you need to have constant cash.
Today, we use online banks to reduce those costs. I use N26 and Revolut (those links are affiliated, you can earn 10€ and me too ). Right now, I'm in Mexico. It costs me around 1€ to get money.
Travelling costs (visa, transport): 2 000
€

/ year

99% of the digital nomads have a tourist visa when they go abroad. It means we can stay in a country for one month or 3 months (if the country is generous with their visa).

If you want to stay longer, it's expensive and takes a lot of time. I had a bad experience in Thailand when I wanted to extend my visa. 6 full hours in a queue and 50€ just to extend my stay.

The main solution is to change constantly in countries. Flight costs between 50 and 350€ and international buses 40€. In one year, we would have spent 1400 € just on transport…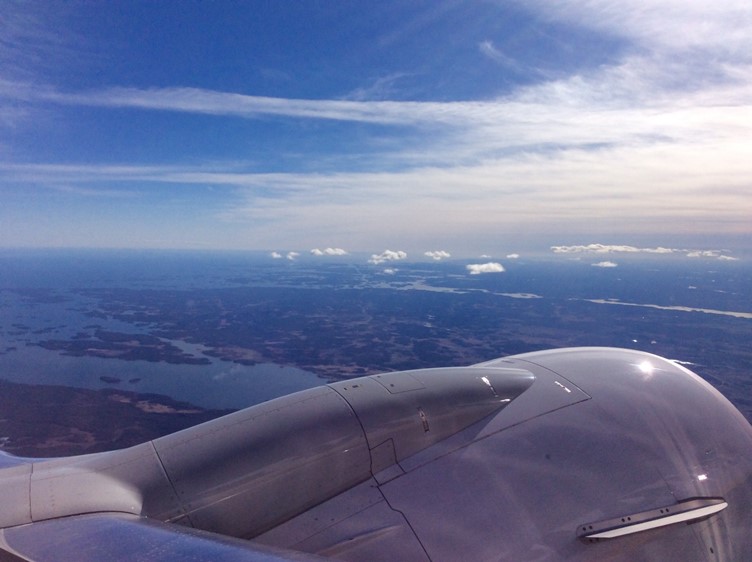 The footprint of each digital nomad is certainly bad. No solution has been found yet.

Taxes & Insurances: Minimum 1 000
€

/year

I don't live in Brussels, but my official residence is still there… It means that I'm eligible to pay Belgian taxes like any other citizens. In my case, I pay around 46% of my income as taxes to the Belgian government. I invoice 1000€ to a client, I receive 540€. 

You'll need to pay your own health insurance as well. In Belgium, common insurance will cover you only in specific European countries and for 3 months. Outside this limit, you are on your own!

In most countries, medical care costs thousands. A lot of digital nomads need to pay out for extra health insurance… You can add one thousand euros to the bill for a high-quality policy.
15 000
€

per person just to be able to work

Digital nomadism isn't that cheap. Stop to follow those influencers who tell you that you can live in Bali for 5 €/day. At the end of the year, all digital nomads will add around 6000 € more than a full-time employee just to be able to do their jobs… No matter where you go, be ready to spend at least 30 €/day.

As you might think, we won't come back financially rich 🙄. We will come back rich in experience and new learnings.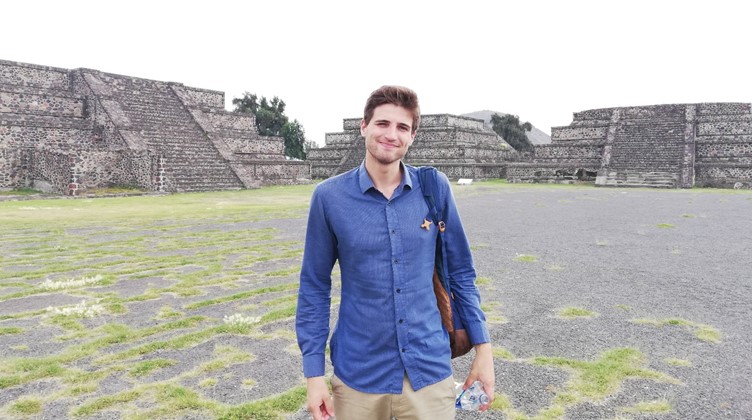 In October 2019, I discover Aztec temples in Mexico

PS :
Average European save 200€ per month (source 1, source 2). Today, I save around 600€. If you skip real estate asset, I'm not that bad then .

I've got inspired to write this article by Samuel James.