Inspired by Andrey Hyde, I decided to try two weeks only a few objects.
Normally I travel with a 50L backpack. Recently in Colombia, my old bag broke in front of the airport gate. Quick solution: I decided to put everything in my second smaller 20L bag.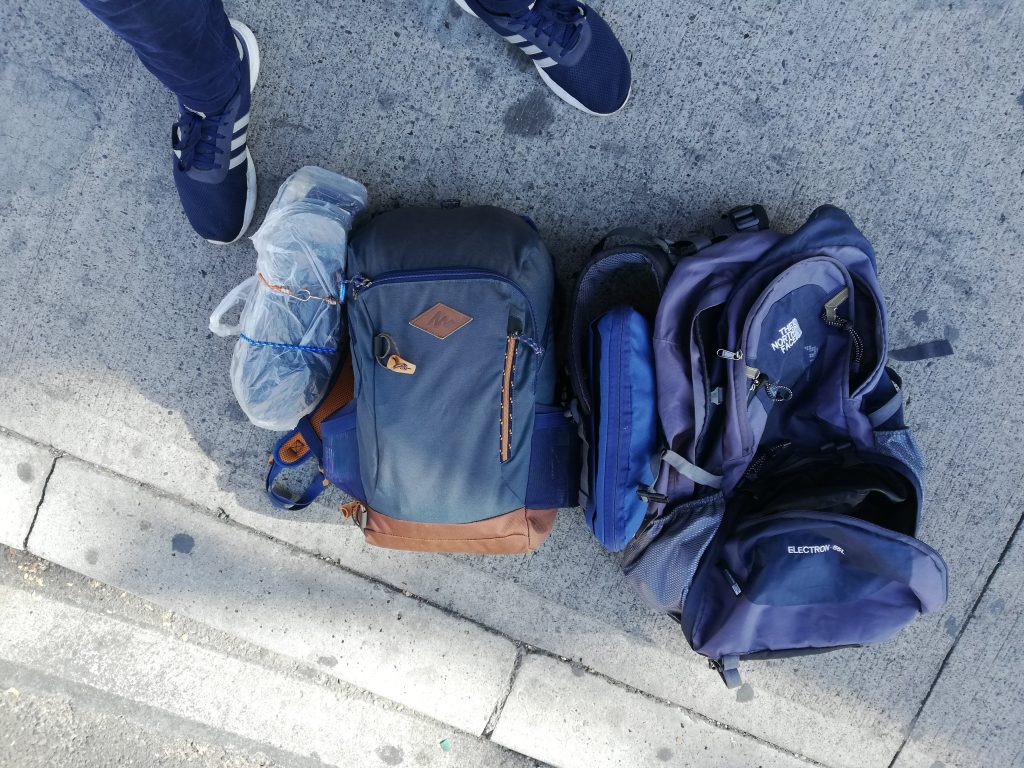 Except for my computer, its accessories (mouse, Bluetooth keyboard) and another pair of shoes, all my belongings fit. I had to use tricks at the airport gate, because they allow us to bring only ONE-CARRY ON.
A new challenge
In Peru, it was the lockdown for 15 days. We are stuck inside. We could go out only for specific reasons (supermarkets, pharmacy, banks). 80% of chances you get caught by the police.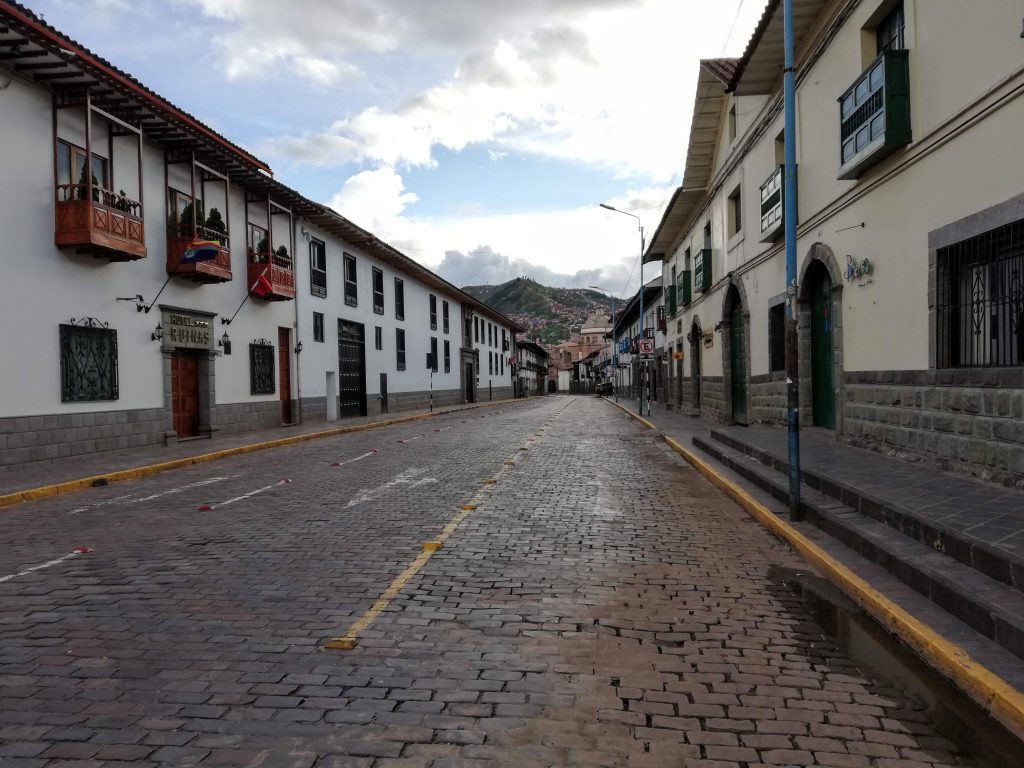 Stuck inside, I decided to split my things into two categories.
I definitely love and need.
I can live without it.
Which objects did I keep ?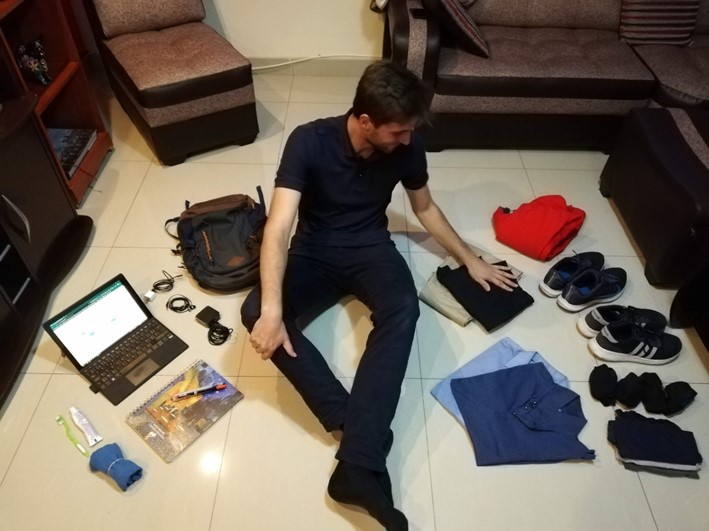 What I wear on this picture count as well. Included the smartphone I used for the picture.
Business,
Laptop hybrid
Chargers
Notebook and pens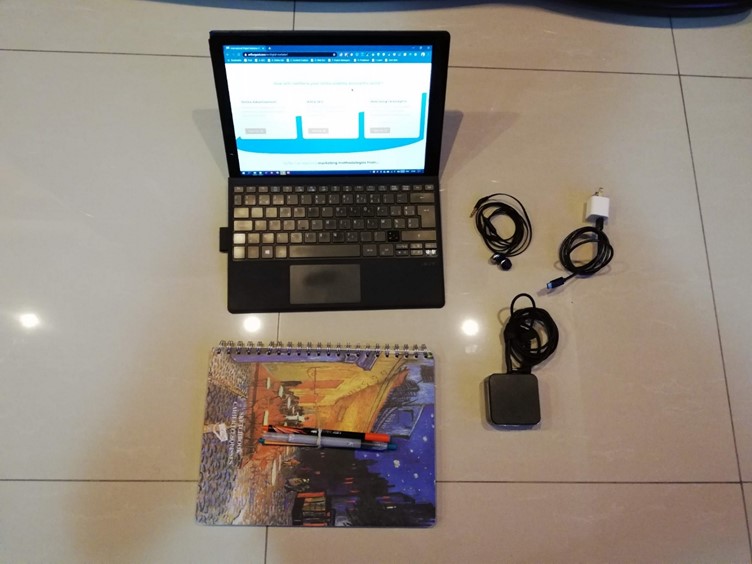 Toiletries,
Toothbrush & toothpaste
1 microfiber towel
Clothes,
2 polos
1 shirt
4 underwears
5 pairs of socks
2 long pants
1 short
2 pairs of shoes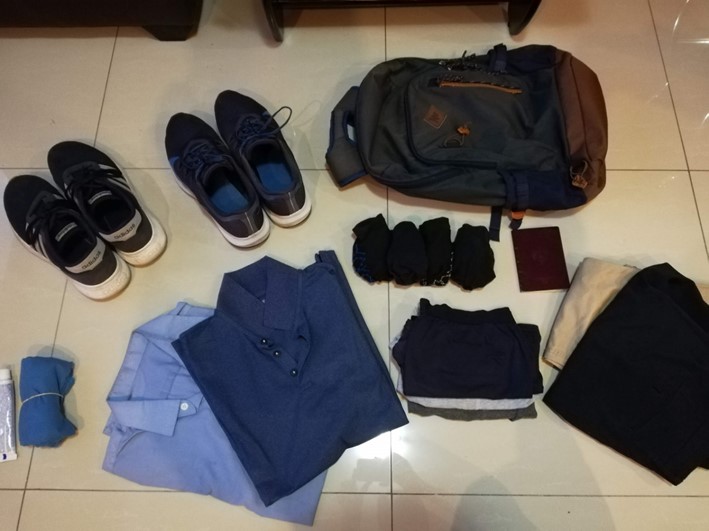 The most important,
Your passport
Your MasterCard/Visa
Your smartphone with a 4G Sim Card.
➡ You can lose everything if you have those three elements everything is going to be fine.
Everything should fit in a 20L backpack. You still have some places left for the food (snacks on the plane) and a bottle of water.
Review of the ultra minimalist lifestyle
Please first notify, that those two weeks were a bit special,
I did only videoconferences for business. No meeting in a suit.
We were in an Airbnb in Cusco with all kitchen tools available.
The temperature outside was around 17° during the day, 3° during the night.
We had at our disposal a laundry machine.
4 underwears and socks were too few.
The idea was that we washed our clothes regularly (every 4 days). I would advise you to take 10 socks and underwears. If you compress them correctly it might not take so much place in your bag or closet.
If you need to go to a laundry service every week, minimalist is not fun at all. Then double it again.
Covid19 kit
I had to buy mask, disinfectant gel and plastic clothes. Due to the pandemic, the police are very strict. We can't go outside without a mask…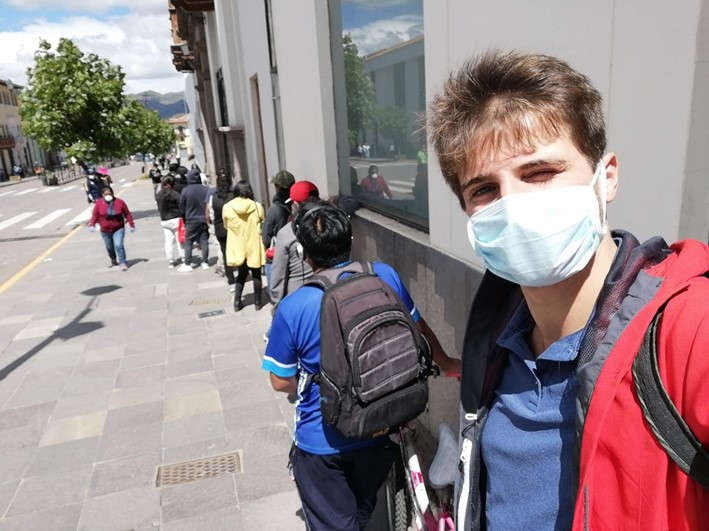 This ultra minimalist list works very well if you don't do a lot of sport.
It's a laundry problem. After one social party (where I dance crazy salsa, bachata & kizomba 🕺), I would have used one shirt, one polo and one towel. Everything will be sweat.
After one party, I've got only one polo left. It's hard to manage and requires daily laundry.
During the Covid-19 lockdown, I didn't have this problem, and I could manage perfectly 🙏.
Don't forget your body care.
I won't be a good L'Oréal brand ambassador. I prefer women with no make-up and creams and I'm not a fan of fragrances and gels.

➡ Be natural.
That's why I took only a toothbrush in my minimalist list. Wrong!
Unfortunately, society still judges you. I had a videoconference meeting and I knew my beard would cause problems…
Normally I own one electric razor, but it broke it recently. I had to buy a plastic razor and gel. I feel sorry because once again I failed in my zero-waste mindset…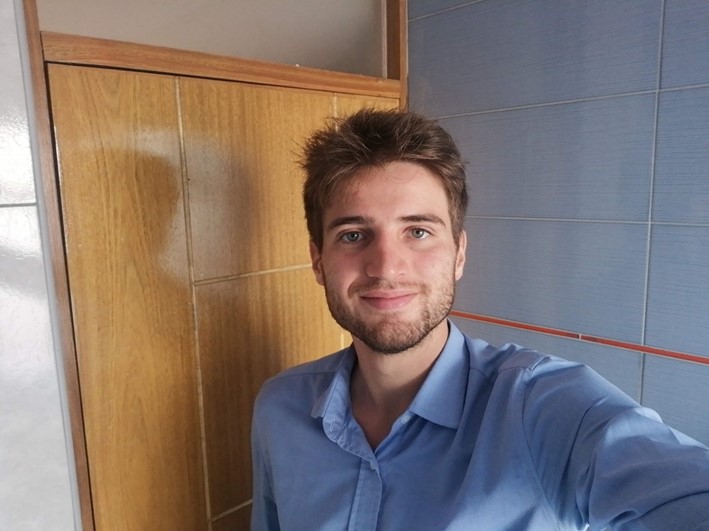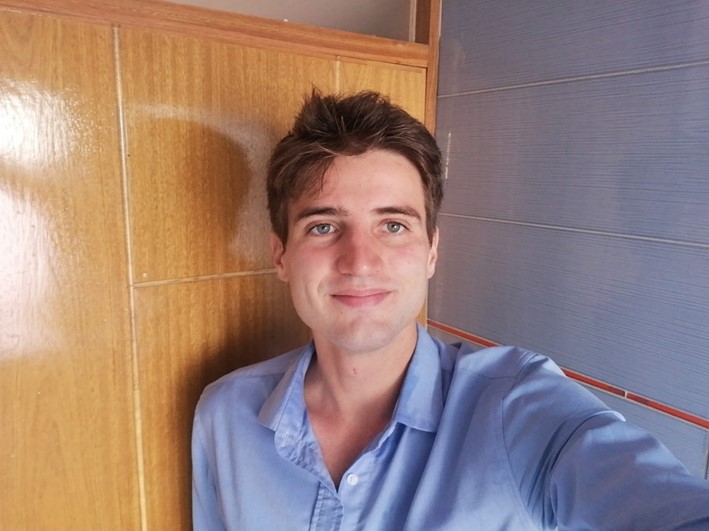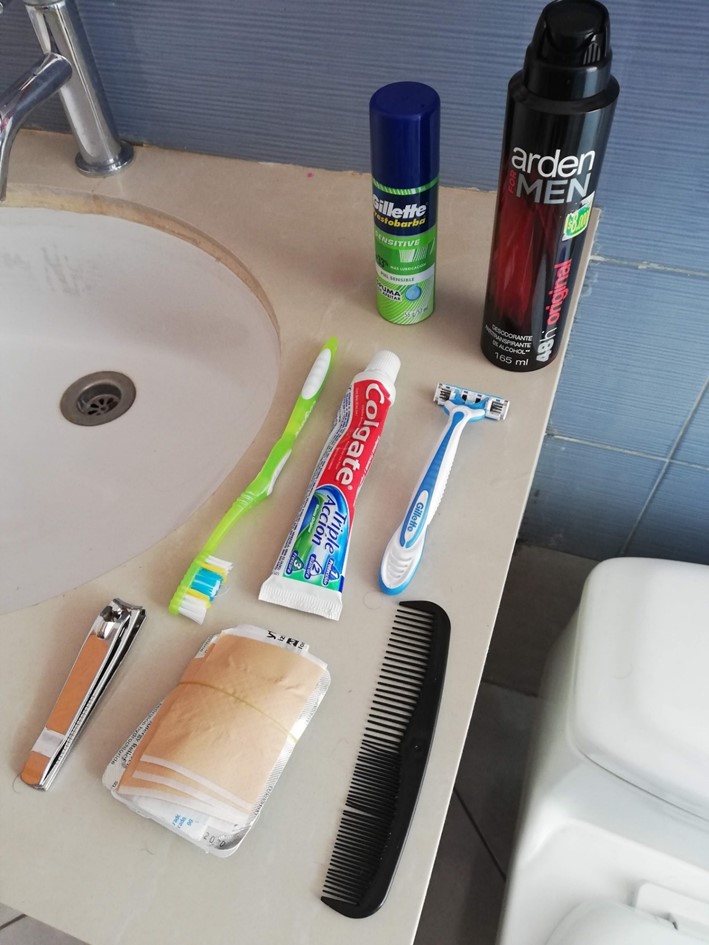 After two weeks, I ended up with all of those. For the pharmacy, there are some plasters, paracetamol, allergic and nausea pills. That's in case…
If you travel in exotic places prepare 3 kind of clothes.
One you look wealthy
One you look regular
One you look poor
For this experience, I took only polos and shirt. It was a mistake. I should have replaced one polo with one basic t-shirt.
In some areas, you don't want to loo fancy.
You will trigger too much attention to you.
Suddenly prices are higher and it's hard to bargain.
People are less welcome and more on their guard.
When you visit a pueblo, a small village, a favela or an unknown neighbourhood take your cheap clothes, it might save your wallet. On the contrary, if you go to a business meetup, a party, take your shirt, take nicer clothes.
Tip: If you plan to do the minimalist in your home city, it's better to look fancy all the time 😉. Opportunities then appear. You would be shocked how people change their attitude when you wear a suit. Suddenly all doors open…
I miss my e-reader.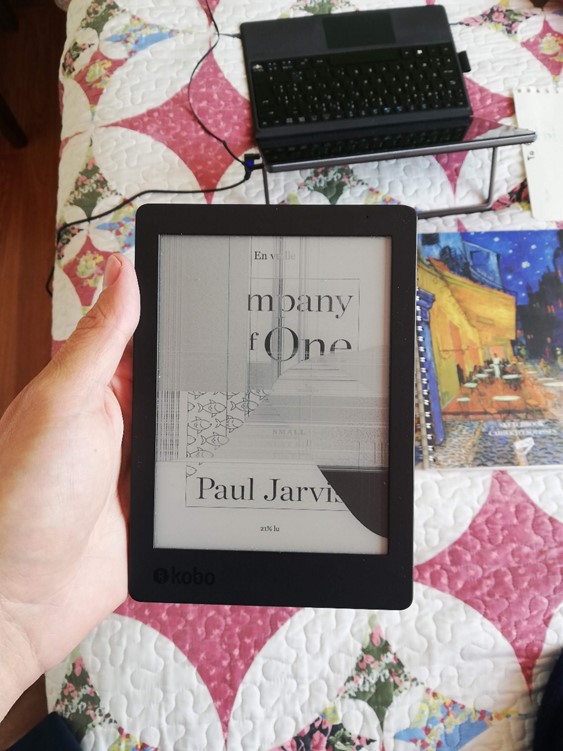 During this lockdown, I slowly got bored. I was fed up of watching movies. My e-reader broke a long time ago. In each country I go to, I try to find a technician to fix it. Impossible. The screen must come from China (around 5 months of delivery).
Backpack through time
Finally, you can see a huge difference between august 2018 and April 2020. You become minimalist with time. You try things and discover yourself etc.
1. My belongings when I left Belgium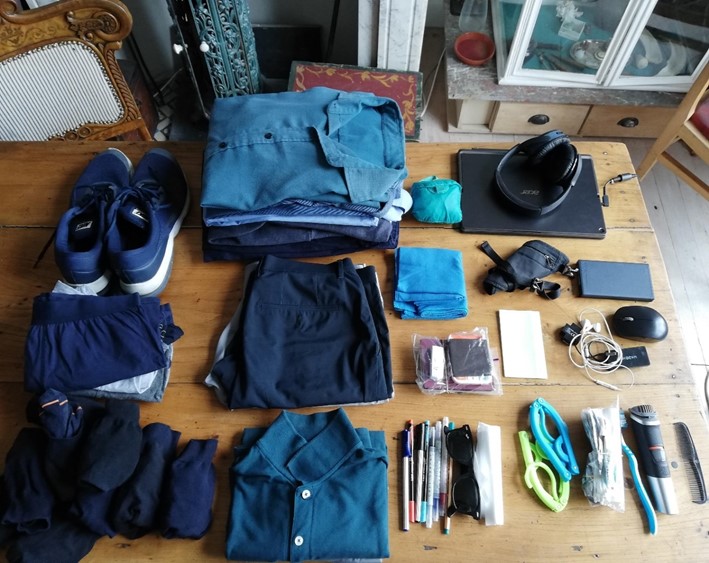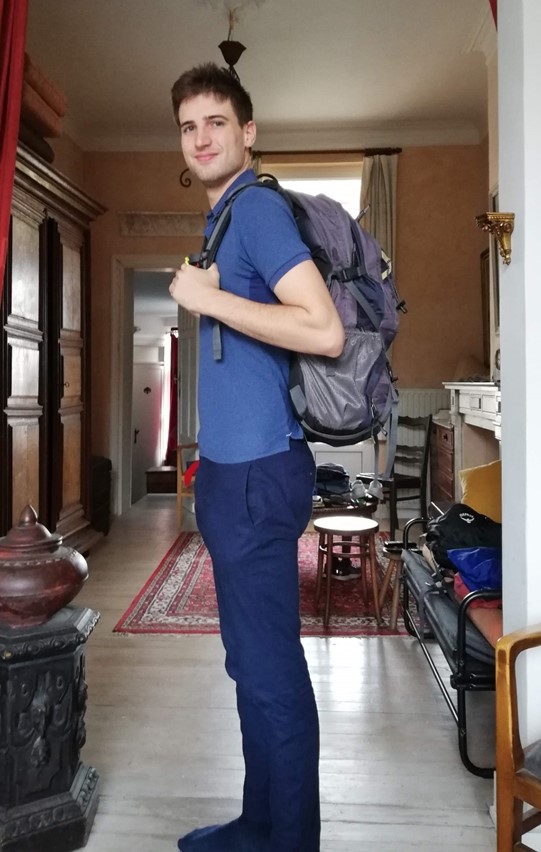 2. My belongings when I came back to Belgium (7 months later)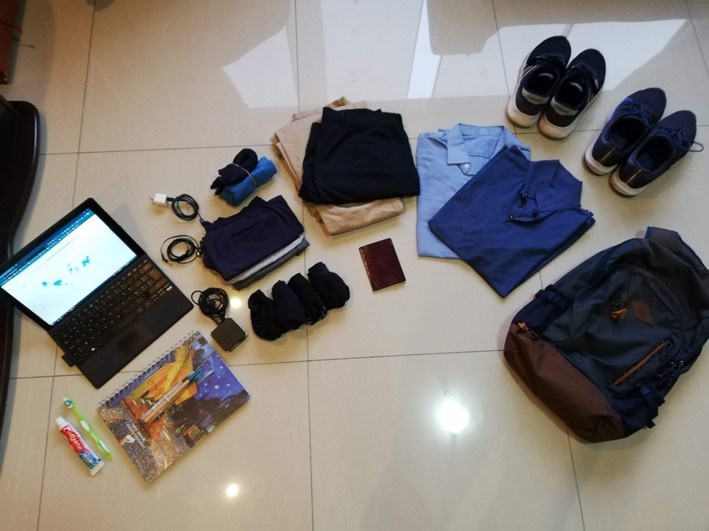 This picture was in the middle our trip in Mexico, Queretaro.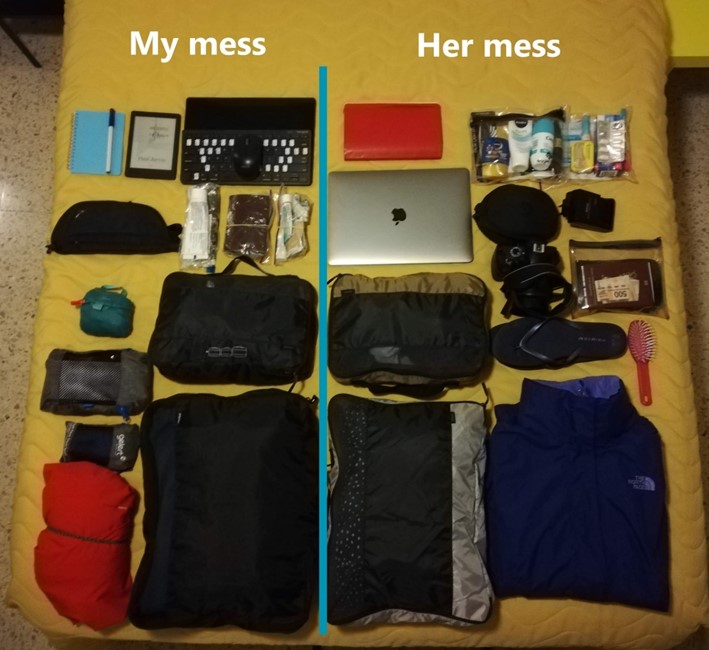 Minimalism – Advantages
Less stress and safer. I know what I own, and no FOMO allowed. When you take the bus, the train, you can keep your bag with you.
Less frustration when you need to pack up. It takes literally 5 minutes to leave an Airbnb.
The room is always clean. Because I've got less, the mess is not spread up in the apartment.
Carry-on for sure. If airplane companies decided to reduce the carry-on to 20 cm, I could still travel without supplement. If you want to earn 80€ on each plane, privilege the ultra minimalism.
You can get anything anywhere. Only bring from home what you can't get locally. People with huge backpacks simply don't realize that developing countries are highly developed nowadays. You'll find more stuff in Bangkok than in Brussels…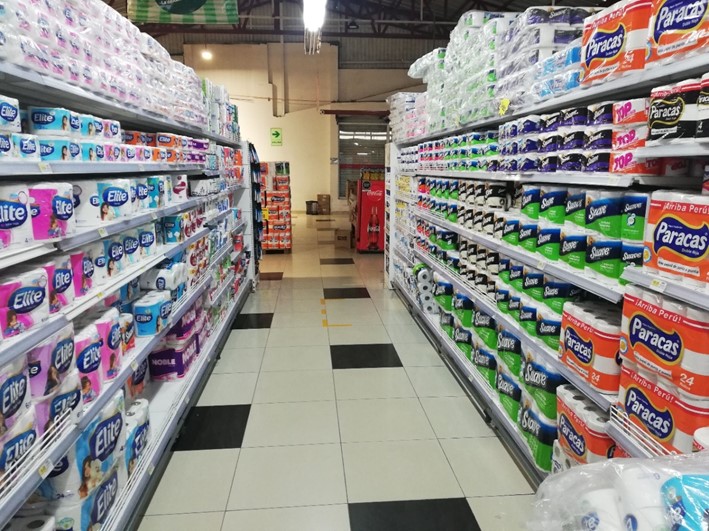 You will save money. When you buy products in Europe, you pay 3x times the price. If you need anything, buy it in a local shop.
I was cold in Cusco; I bought an alpaca scarf for 5 €. In Japan, we needed gloves, and we bought two for 2 €. An adaptor costs 1€ in Asia. Same for medicine and shower gel/shampoo.
You are free to move. When I see those backpackers with giant bags, I feel bad for them… It's heavy, not easy to carry and not comfortable. They are limited in their moves.
For example: When we did the Belgian repatriation, some tourists complain they had to walk 30 min with their luggage. Seriously? Does it mean those tourists take all the time a taxi, Uber?
Minimalism – Disadvantages
You are limited. Your bag is too small. You won't be gifts for all your family when you come back.
You might do a lot of laundries. When I lived in Belgium, I had enough clothes and underwear to survive for 3 weeks with no laundry.
You wear the same shoes and clothes They will be worn out quickly. I need to buy need sneakers everything 6 months…
The clothes I listed are good for a temperature between 5° to 35°. Below 5°, I would advise you to buy a bigger jacket and some sweaters. Replace the short by another pant.
Electronics are hard to get. My e-reader and my electric razor were broken, and it was impossible to fix them around the world. To buy, prices change drastically from one country to another. In foreign countries, you can forget your warranty. Keyboards are different, adaptors are different. Because you change addresses constantly, you can't order online etc.
Which sport do you do? When you go minimalist, your objects should have different functions. I dance a lot; I can use my daily sneakers for my sport. I don't like to spin anyway 🌪. What if you need specific equipment for your sport?
On all your pictures you will have the same clothes. Some fashionista might notice it.
You'll become freak of your clothes. As soon I've a spot on my shirt, I run to the toilet to clean it. I've only a few clothes, so I need to save them!
I hope it inspires you.
To live with less will allow you more concentration and time for what truly matters to you.

PS: I know a lot of people who love their clothes and car etc. For them, their objects matter a lot. It touches their values and wellbeing.
If your wardrobe makes you happy and you are proud to have 50 shoes, go for it. My message is not an anti-consumerist one, but wise consumerist. Buy what you truly need for your happiness. In my case, it might be a faster laptop 😅.
PPS: Don't throw it away. You can reuse a lot or give it away. When I declutter, I gave my clothes for hobos. They first looked weird to me but then smiled and thank you.
PPPS: I do agree with Pieter Levels, there is some hypocrisy behind the minimalist lifestyle. Not everyone can afford it. It's a thing for privileged Europeans…
I have the luxury of being able to buy the food I need from the 7 Eleven around the corner, whereas most people in the world need to stock up large volumes of food to be able to afford eating at all.

In an emergency I have a credit card to fall back on while most people in this world do not. There's a reason you see homeless people in America hoarding stuff, it's because that's all they have, and they need it to survive. – Pieter Levels (founder of Nomadlist).
We have the luxury to get rid of our stuff.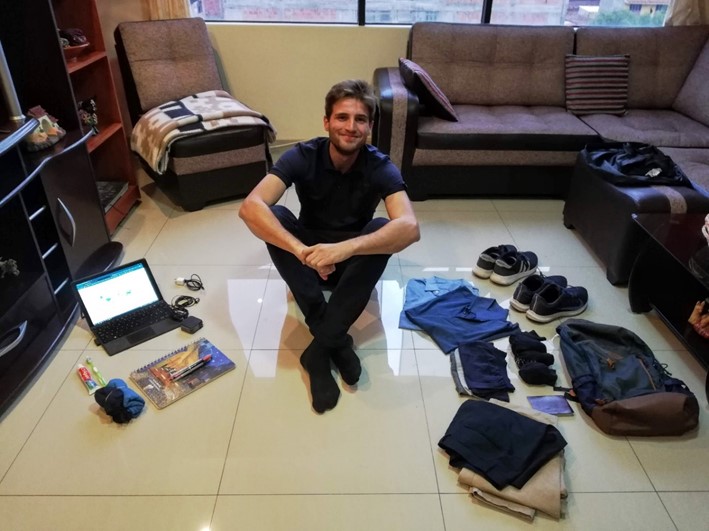 Thank you for reading. I wish you all the best 😊!